Apple's iOS updates are always highly anticipated, and the iOS 17 update is no exception. If you want to get a sneak peek at the latest features and improvements before the official release, you can become an Apple beta tester for iOS 17. In this article, we'll guide you through the process of joining the iOS 17 Beta Testing Program.
1. Check Eligibility
Before you start, make sure your iOS device is eligible for beta testing. Apple typically limits beta testing to certain iPhone and iPad models. Check Apple's official website or the beta program sign-up page for the most up-to-date eligibility requirements.
iOS 17 beta (both the developer and public versions) compatible:
iPhone 14, iPhone 14 Plus, iPhone 14 Pro, iPhone 14 Pro Max.
iPhone 13, iPhone 13 Mini, iPhone 13 Pro, iPhone 13 Pro Max.
iPhone 12, iPhone 12 Mini, iPhone 12 Pro, iPhone 12 Pro Max.
iPhone 11, iPhone 11 Pro, iPhone 11 Pro Max.
2. Backup Your Device
Beta software can be unstable, so it's essential to back up your device before you begin. You can use iCloud or iTunes to create a full backup of your data. This way, you can easily restore your device to a stable version of iOS if you encounter any issues during the beta testing period.
3. Enroll in the Apple Beta Software Program
To join the iOS 17 Beta Testing Program, you'll need to enroll in the Apple Beta Software Program. Here's how:
Open the Safari browser on your iOS device.
Go to the Apple Beta Software Program website (beta.apple.com).
Sign in with your Apple ID and password. If you don't have an Apple ID, you'll need to create one.
Read and agree to the terms and conditions of the program.
4. Enroll Your Device
After agreeing to the terms and conditions, you'll see an option to enroll your iOS device. Follow these steps:
Tap on the "Enroll Your Devices" section.
Download the beta profile provided on the page, click " download the configuration profile"
Install the profile by following the on-screen instructions. Your device will restart after installation.
5. Check for Updates
Once your device reboots, go to Settings > General > Software Update. You should see the iOS 17 beta version available for download. Download and install it.
Or check General > VPN & Device Management: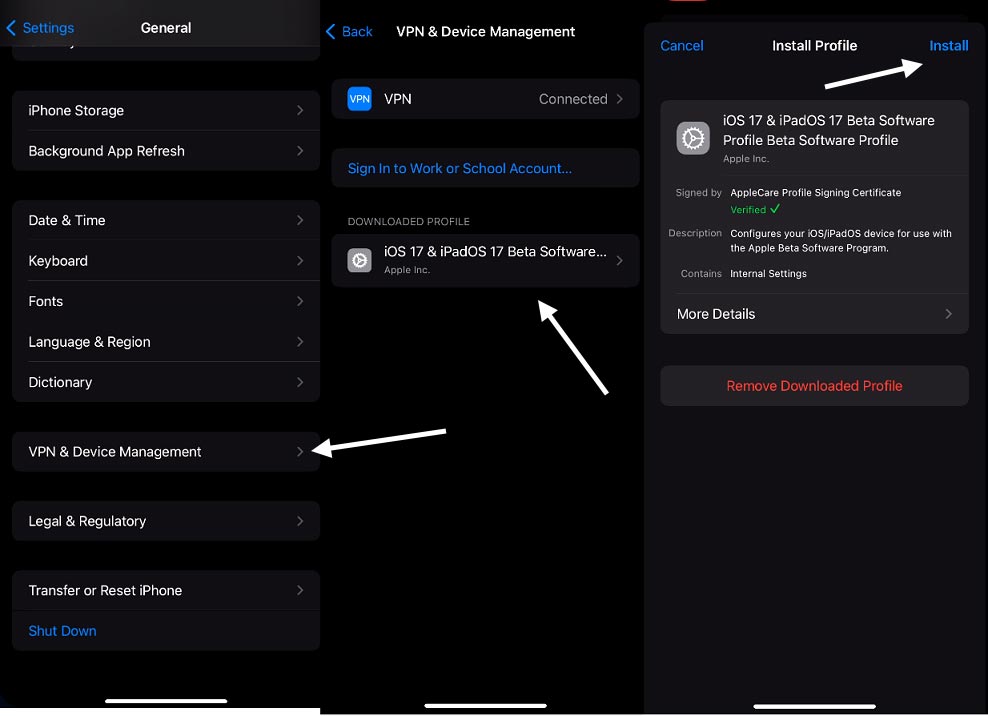 6. Provide Feedback
As a beta tester, you play a crucial role in improving iOS by reporting bugs and issues you encounter. Use the Feedback app on your device to provide feedback and report any problems you come across.
7. Stay Updated
Apple typically releases several beta updates before the final public release. Make sure to keep your device updated with the latest beta versions as they become available. This will allow you to experience the latest improvements and bug fixes.
8. Leaving the Beta Program (Optional)
If you decide you no longer want to participate in the beta program, you can remove the beta profile from your device. After removing the profile, your device will no longer receive beta updates, and you can continue using the stable, public version of iOS.
In conclusion, becoming an Apple beta tester for iOS 17 is an exciting way to get an early look at new features and help improve the operating system. Just remember that beta software can be unpredictable, so be prepared for potential issues. Your feedback is invaluable to Apple, and your participation contributes to a better iOS experience for everyone when the final version is released to the public. Enjoy exploring iOS 17 and being part of the beta testing community!